Speckles: In Memoriam
My mom called this morning to let me know they're putting my baby down today. He wasn't eating or drinking and was dehydrated, so they took him to the vet last Friday. He came home yesterday and still hasn't been eating or drinking much, has just been laying and wanting someone to sit with him. Mom says he decided this is it. He was 18 years old.
The thing that kills me is that I didn't even get to say goodbye. I haven't seen him since Christmas. Speckles was my cat. I begged and begged to get a cat, I picked him out at the Humane Society when he was just a tiny kitten. I refused to give him back when the vet told us he had a heart murmur and wouldn't live very long, that we should get a "healthier" cat. Well, look at him. He lived eighteen years. He had more personality than any animal I've ever met.
He let us dress him in baby clothes, a bonnet and a dress and a diaper, tuck him into the buggy and take him for walks around the neighborhood. He put up with weekly baths when my mom's allergies were bad. He got excited at Christmastime, when the tree would come in the house and there was all kinds of tissue paper and wrapping paper and ribbons for him to amuse himself with. He loved ice cream most of all. When I went away to college, he still slept on my bed. When I came home, he'd sleep with me, and purr so enthusiastically he'd nearly push himself right off the bed. He knew when you were sad or angry or sick, and he'd be right over to snuggle. Otherwise, he liked to watch the action from a bit of a safe distance.
He always meowed when someone was on the phone, but never into the phone. I talked to him anyway, because he'd sit patiently with the receiver and listen.
I know it was the right thing for him to have the surgery last year, because when he came home, he was still himself. He wasn't ready to die then, and he got almost another whole good year in. It still makes me sad, even though I know it's for the best.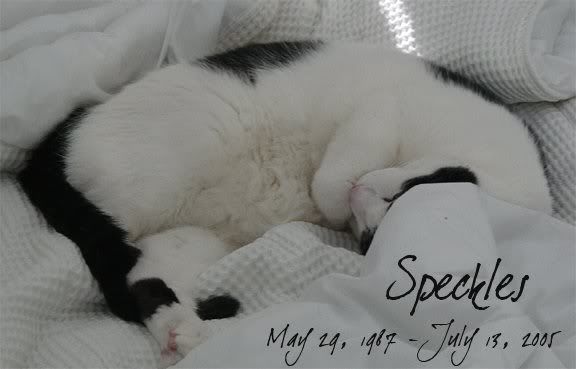 I don't have any of when he was a kitten, as those are all at my parents' house, sadly. But here are a few photos I had on my computer: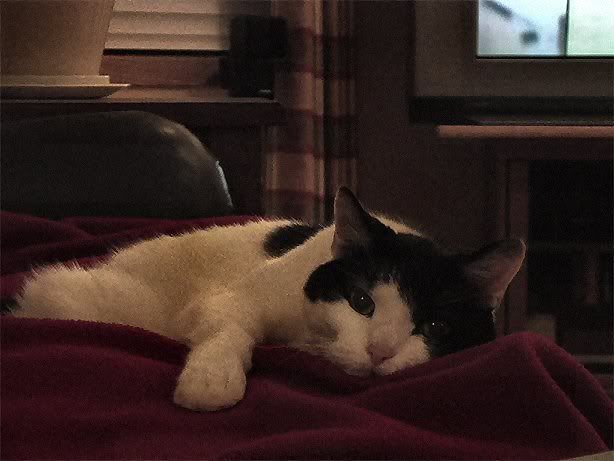 Christmastime this year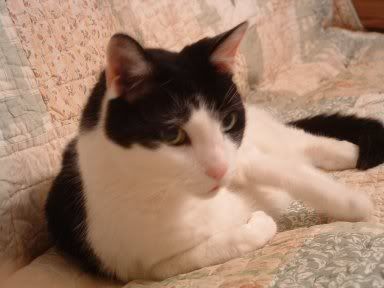 And another...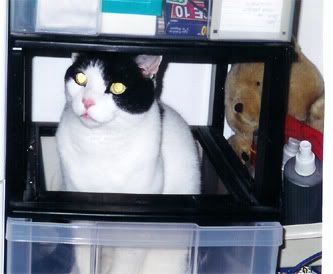 When I was packing to go away to college, he wanted to go with.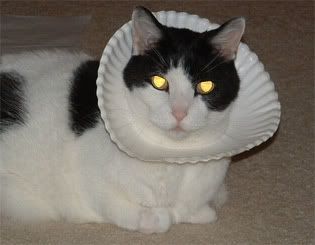 Right after his surgery (I'll spare you the amputated-leg part of the picture, but isn't he just a goof in his makeshift cone?)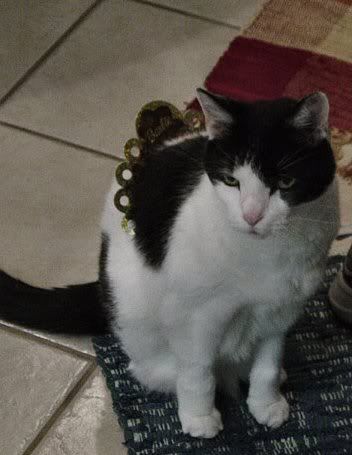 Completely unamused in a New Years crown.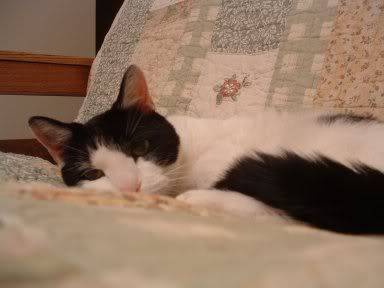 One more from this past Christmas