Help Save Field's
As you're most likely aware if you live anywhere in the Midwest, Marshall Field's was purchased by Federated Department Stores (which owns Macy's). It was just announced last week that the Marshall Field's name will be replaced by Macy's.
Field's is a landmark and a Chicago tradition. The Marshall Field's Company has been around for over 150 years; the State Street store has been open, I believe, since 1881. The thing *I* remember Marshall Field's for is Christmas. Every year in November, the Walnut Room--the "fancy" restaurant in the middle of Field's--gets a gigantic, three-story-high Christmas tree. It used to be real, until it became a fire hazard. Every year the tree has a different theme, and the entire store is decorated to match. The windows along State Street and around the corner are filled with scenes from the well-known fairy tale chosen as the theme for the year. They've done everything from Snow White to Harry Potter.
Every year on Veteran's Day, my mom, sister, grandma, grandpa and I would take the train downtown. We'd get to Field's early, rent a locker for our big winter coats, and stand in line for what felt like hours (this was before restaurants had pagers). We'd always observe the moment of silence for the soldiers while in line, and smile up at Grandpa while we did. We'd finally make it to the front. We'd ask to be seated right under the tree. Grandma would make my sister and me pose for a dozen different pictures after we ordered our food, usually Field's Specials (gigantic salads with everything), and hot chocolate in souvenir Mistletoe Bear mugs.
After lunch, we'd start our Christmas shopping. We'd spend time appreciating the windows before walking back to the train station for home. That was our family's tradition almost every year I've been alive.
It just won't be the same without Marshall Field's. Macy's is everywhere--Field's on State Street is Chicago.
If you can take a second, sign the petition here: Save Marshall Field's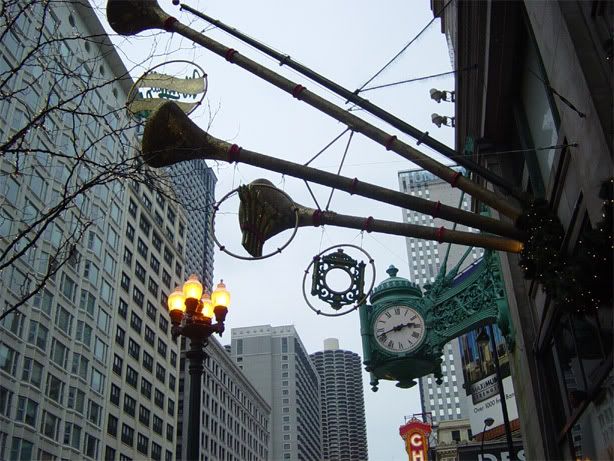 Just for good measure, a picture from last Thanksgiving: the Marshall Field's Clock on State Street