Joshua Tree
We had our first Family Field Trip yesterday, the first time all four of us did something other than the "usual" together. We went to Joshua Tree National Park for some hiking and rock climbing.
Some (Ryan) were more adventurous than others (me), but I think everyone had a good time. We hiked down a trail, then cut across to the... mountains? Rocks? to climb. I am not the most agile rock climber, nor the most fearless, but it was a beautiful day and a beautiful landscape and a lot of fun. I would have taken more pictures, but we left the cameras at the bottom when we started climbing. Here are a few: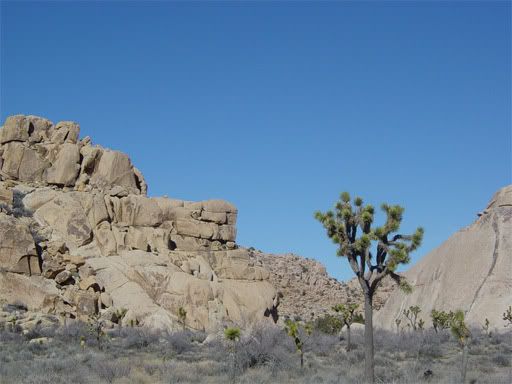 A little Joshua Tree. ;)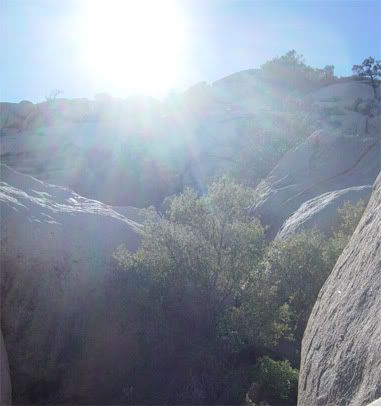 The sun was quite bright. That happens in the desert.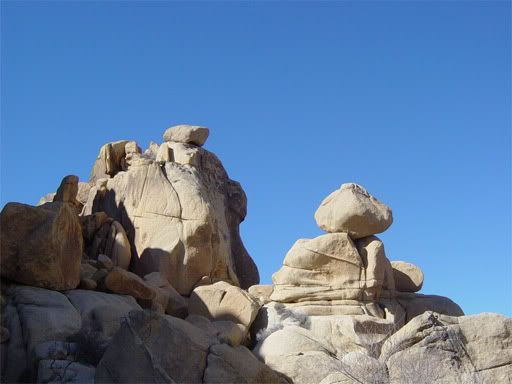 And yes, the sky really was that blue.
The weather was about perfect, somewhere around 70 degrees and, as you can tell, clear and sunny. I imagine it gets pretty hot there in the summer, and pretty cold at night, so mid-day in January was probably the best time to go. The park itself is huge, though, so I'd like to go back and see another area.
***
Today was much less eventful. I cleaned the downstairs (really, really well... hands-and-knees cleaned), finished laundry, and watched The Aviator and Before Sunset. Last night we watched Beyond the Sea. All were very different, but quite good.
And that, my friends, is that. Tomorrow's another day, another dollar. And so it goes.